You're halfway through your morning, and you catch yourself doing it again: rubbing your lower back. The discomfort is nothing to how your spine felt during pregnancy, and just about every one of your mama friends has mentioned similar issues, attributing it to the daily grind of motherhood. Of course, you could take "something for the pain," but you'd sure love to find a natural way to get through your day without wincing every time you pick up a child or get an extra tight squeeze from your husband.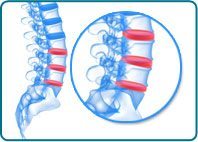 Does that scenario sound agonizingly familiar? So many moms out there are bearing up under back pain, telling themselves that it's the price of being a mom, that they'll deal with it later when the kids are older or when they can afford surgery, or....
Every mom I talk to has altruistic and sometimes Godly reasons for silently shouldering the physical pain of motherhood, but what if I told you three shocking things about your back pain that your doctor and fellow friends may not know?
Your back pain IS because of motherhood. Carrying babies inside your abdominal wall stretches out the muscles that support your lower back.

Every pregnant woman gets a diastasis recti, which is a separation in the fascia of your linea alba, and it's how your belly muscles stretch to make room for a baby. The wider your diastasis gets, the longer it takes for your abs to reknit themselves back together and return to their main job of supporting and protecting your spine.
Your posture and style of fitness during pregnancy directly affect how wide your diastasis gets, as does your posture and style of fitness after you deliver. Slouching and doing sit ups and crunches will make your diastasis wider, putting more pressure on the separated tissue. Keeping your spine naturally curved and neutral and being gentle in your choice of movements can help your body heal.
Very few doctors and midwives tell women about diastasis, and it is often written off as an aesthetic "looks and vanity" issue because the poochy belly that you've attributed to all those pregnancies can also be a sign of diastasis. However, having a gap in your abs could also be the major culprit behind health issues including
:
Julie has a real heart for moms of multiples, because their diastasis is often bigger.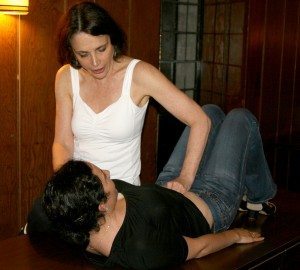 Chronic lower back pain because the abs are too stretched out to support the spine in proper posture for any length of time.
Bowel trouble because the abs are supposed to hold your internal organs in the correct position to facilitate proper digestion. When I check bellies, I often can palpate organs through the thinned connective tissue... which is SCARY because that means the woman's organs are exposed to trauma.
Pelvic floor issues such as prolapse, incontinence "leaking" and general looseness because the biggest, deepest abdominal muscle - your transverse abdominus - connects in the same place as your pubococcygeus muscle. Strengthen your core (read: not six-pack) can literally eliminate pelvic issues.
So how can you fix it? Well, you can start by checking yourself for it by CLICKING HERE to visit a page on my site with a video filmed by my business, Fit2B Studio, and The Tummy Team. If you check your tummy and determine you have a diastasis, it's very important that you stop all forms of crazy ab work and just focus on healing from this debilitating injury. You can use the family-friendly workouts on my site to do that for a nominal monthly fee, or you can use my Diastasis Directory to locate a nearby professional to help you heal. It's also crucial that we bring back the tradition of binding bellies after birth.
Birth Professionals: The Diastasis Awareness section on my site has two downloadable, printable handouts that you can use to explain diastasis to your clients and other professionals in your field.



T
he bottom line is that if your back pain or other diastasis-related health issues are preventing you from being the greatest mom you can be for your kids, rest in knowing that God designed your body to heal from this. It's all about finding your God-given girdle and putting it back to work. Don't wait for the exact right conditions to take care of your core, because if you need to be strong at the core of your home. And believe me, your husband will thank you ;) Read my story and see my husband's cute note to me HERE.
Bethany Learn lives in the Pacific Northwest with her husband and two energetic children. She is the founder and CEO of Fit2B Studio, LLC which offers wholesome home workout streaming to members in six countries worldwide. Her hobbies include crocheting rugs out of t-shirt yarn, working on their off-grid cabin in Montana, and reading lots of thick books.